By default, WordPress is set to show ugly URLs (web address that appears in the web broowser). One should always change the ugly URL permalinks in WordPress to a more user-friendly, pretty permalink or URL format.
Here's an example to show the permalink URL options.
Ugly Permalink: http://wpflux.com/?p=14779
Pretty Permalink: http://wpflux.com/14779-change-wordpress-permalinks-url-format/
How to Change WordPress Permalink Settings?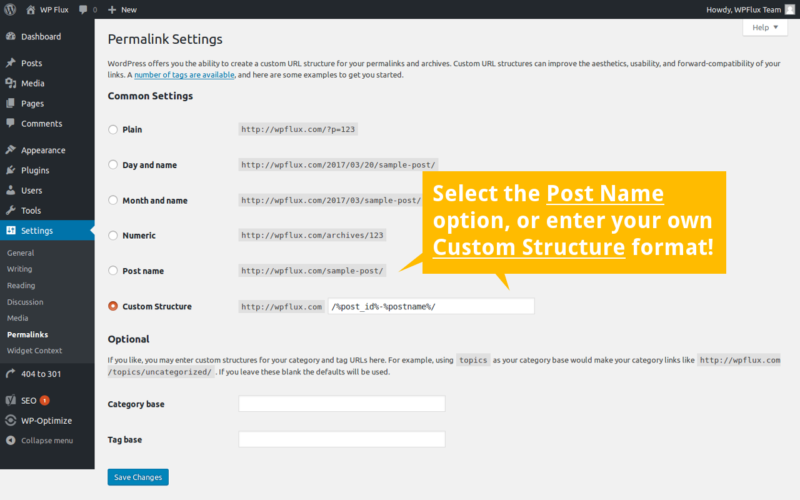 WordPress allows you to easily customize the format of links for posts (and also other entries). Here's how to easily change the permalink URL settings in WordPress. WordPress offers you the ability to create a custom URL structure for your post URL links, permalinks and archives (categories & tags).
Log in to your WordPress website
Go to Dashboard > Settings > Permalinks
Select the Post Name option (easy, good for small websites)
Select the Custom Structure option (advanced, good for large websites) and enter the Custom Structure in the textbox.
Custom Structure: /%post_id%-%postname%/ (Recommended)
Custom Structure: / %category%/%post_id%-%postname%/ (Include Category in Post URLs)
Click on the Save Changes button. Done!
You can use a number of tags to create your own URL structure format. Don't put your website url in the permalinks fields. It's taken care of by WordPress. You only use a combination of tags. Alays end your URL structure with %post_id% or %postname% tag so that each permalink points to an individual post.
For WordPress pretty permalinks, your web hosting server should be able to handle the URL rewriting. In Apache web server, you must have the mod_rewrite module enabled. Don't worry about it. You web server is most likely to have it already configured properly. Get in touch with your hosting provider if things don't work even after following the steps listed here.
Why Change WordPress Permalinks?
The default URL permalinks for posts in WordPress is not the best option for a good blog or website.
Not human-friendly as it's difficult to remember
Hurts SEO rankings as it does not have any keyword
No information provided on the webpage content